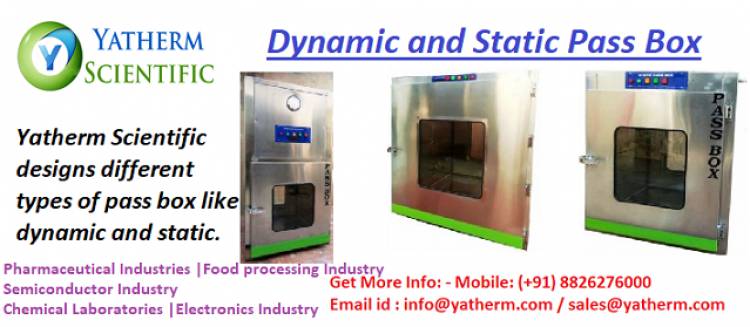 Read Below to Find All The Types of Pass Box And Its Features
Pass Box is a closed steel box made of a double door which is used for transferring the material from non sterile door to the sterile door inside the clean room. Scientist makes the use of the Air showers to pass through into the clean room where as the material uses pass boxes to get inside the clean room. Pass through Box is clean room equipment which is designed in two categories like a static pass box and a dynamic pass box.
Pass boxes provide a controlled environment to the clean room free from all the airborne cross contaminations making the research environment clean and safe. Airborne particles present on the material may affect the research of a company hence it is recommended to all the pharmaceutical clients to use Yatherm pass box.
Yatherm are also manufacturing CE certified Pass through box in India which is made up of high quality steel and suitable class of HEPA filters and pre filters. The main motto of Yatherm is to offer new designs, good quality and best sales support to all the clients also providing them with one year warranty and ten years of spare parts availability.
Applications:
Pharmaceutical industries

Food Processing industry

Semiconductor industry

Chemical laboratories

Electronics industry
Features:
ISO/CE certified

Interlocking system

UV light with timer

Magnehellic gauge

Low noise less than 60db

SS construction for chemical and rust proof

Buzzer indication for material transfers

The magnetic Locking system on doors
According to your requirements and specifications you can choose the model, Yatherm Scientific designs different categories of pass box such as dynamic and static.
---
Dynamic Pass Box:
---
Yatherm Scientific designs the dynamic pass box equipment in a complete stainless steel 304 which also has an interlocking system, UV light, Illumination light, fan motor, 0.3 microns HEPA filter and pre filters. HEPA filters are suction filters which are made as per the European standards in order to prevent any kind of cross contamination. There is an added advantage with the inter locking system in opening one door at a time while the material is passed. Dynamic pass box is preferred over a static pass box by Class 100 and Class 1 clean room users
---
Static Pass Box:
---
Static pass box is a passive pass box that has been designed with UV light, interlocking system, magnetic door locking and the buzzer alarm. This static pass box doesn't have HEPA filters and fans for passing through of material.
Yatherm manufactures pass box with many different designs and models which can also be customized depending on the need of specifications. In addition there is also one year warranty available along with user friendly operations and maintenance.