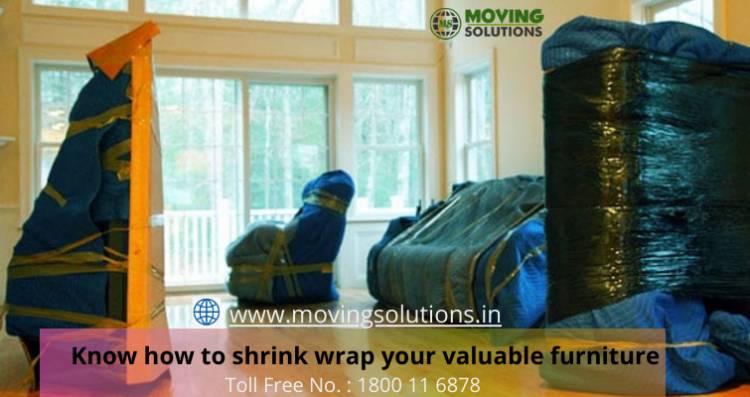 Know how to shrink wrap your valuable furniture
Have you heard of shrink wrapping? Shrink wrapping your furniture and other items before household shifting can save you from a lot of stress.
If you know the right method to shrink your belongings during household shifting it could protect your valuable items. Most packers and movers in the city will know how to do it, but if you are trying it for the first time then you must get some ideas about it.
---
Why shrink wrapping is important?
---
Shrink wrapping can help you in many ways, some of them are:
Once you shrink wrap your valuable items, you won't have to worry about damaging the items from dirt.

It will keep loose drawers and wires in place.

It doesn't have adhesive mark like tape leaves. Hence, it doesn't leave any sticky marks on the furniture.

It will protect the walls from getting marks while moving the furniture.
It may cost you a bit extra, but professional packers and movers in the city will know how to shrink wrap in best way. If you are on a tight budget you can shrink wrap your furniture yourself.
Before you set out to buy shrink wrapping, check out some of the furniture that will need shrink wrapping. Here, is a list of items that may require shrink wrapping.
Shrink wrapping will protect your upholstered furniture from getting dirty and dusty. Strangely shaped or loose items like table legs, curtain rods will be easier to carry of shrink wrapped. They are protected from getting damaged and will require less space.

Furniture with doors or drawers
Your wooden furniture with drawers and doors may get opened and bang against each other if not packed properly. Shrink wrapping this type of furniture will keep the doors and drawers tightly closed. The paint and finishing on the furniture will also not get damaged.
If you don't keep power cords or cables properly wrapped the moisture may damage them. Shrink wrapping the electronic gadgets with their cords and cables will help you keeping them safe. They won't get dragged on the floor and chances of anyone tripping over them are very less.
Mats and rugs if not packed properly may get wet or stained. Roll them up tightly and shrink wrap them. This will make it easier for you to carry them and protect them from getting damaged.
Greasy or dirty items (oil cans, gardening tools, etc.)
Shrink wrapping oily tin cans and dirty boxes can prevent it from spilling. Doing so, will also prevent it from staining other materials.
Anything valuable that's difficult to pack (picture frames, bulletin boards, etc.)
Shrink wrapping is an added layer of packing to protect all your valuables. These items may get easily scratched, stained or scratched if not packed properly. Picture frames and bulletin boards should be bubble wrapped first and then try shrink wrapping. This will help you keep these items safe and secure.
If you are hiring any packers and movers from Delhi to Bangalore or packers and movers from Bangalore to Delhi, they will know which all items will need shrink wrapping. If not, you may have to make a list yourself before you start wrapping them.