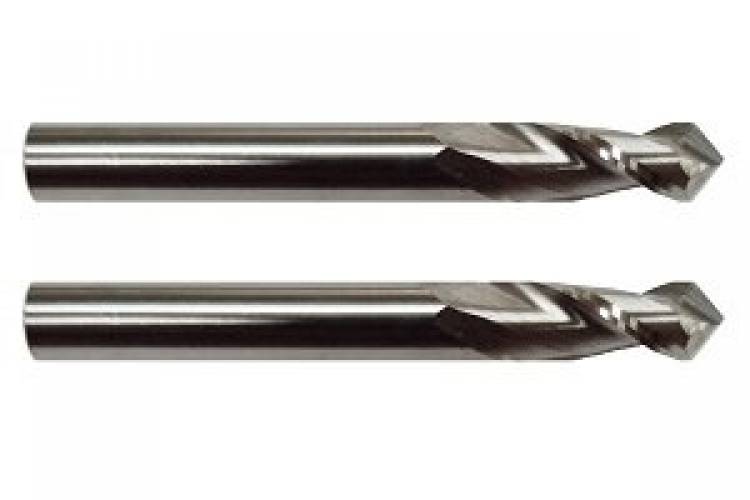 Thread Milling With Solid Carbide End Mills
Milling machines are amazing devices for manufacturing. They can quickly and accurately produce components that require incredible precision. If you are producing custom components in your shop, thread milling with solid carbide tools is one of the best ways to ensure that you will be left with clean and accurate threads. These specialized carbide end mills can produce threaded surfaces faster and more efficiently than the tap and die tools traditionally used to cut threads.
Old fashioned tap and die tools are still used to cut threads by hand and threading machines are a popular option for cutting threads into pipes and other interlocking surfaces. Both of these tools make long continuous threads by cutting into the materials breaking the chips as metal is removed. These tools work, but they are slow and an unexpected jam can bring your operation to a halt and damage your workpiece.
Thread milling is one of the most efficient ways to cut thread into any surface. There are different varieties of thread mills that cut threads in different ways. One of the most versatile options is to use a single pitch carbide thread mill. These tools have a single cutting point and they operate by tracing the entire length of a threaded surface. Because the cutting surface is so small, single pitch tools are ideal for cutting materials with thin walls or poor stability. You can also cut several thread pitches and sizes using a single tool. Despite their versatility, these tools do take a while to completely cut thread due to the fact that they have to cut each row of the threaded surface individually.
If speed is important to you, a full form thread mill might be the superior choice. These tools have a line of cutting points that allow them to complete an entire threaded surface in a single 360 degree pass. Basically an entire row of threads is cut and the tool drops the length of a thread pitch turn it's 360 degree tool path. This means that each cutting point will terminate its cut where the point below it began, producing a continuous helical thread. Using these cutters can make the threading process quicker and easier, but each cutter is limited to creating threads with a uniform pitch. If you have to produce several threaded surfaces with different pitches, you will either have to use a single form tool or perform tool changes for each pitch size.
No matter which type of tool you choose to use, it's important to consider the construction of your tools. Thread milling with solid carbide tools tends to be the best option. This is because of the fact that carbide tools are more rigid than steel tools, meaning that they produce extremely accurate results. Carbide is also far more heat resistant than steel tools, meaning that your carbide thread mills will retain their sharp cutting edges even after running at high speeds.
If you are looking to find some high quality thread mills for your shop, you need to check out the options available at Online Carbide. They are an American manufacturer specializing in high performance solid carbide end mills and drill bits. You can find both full form and single pitch tools on their website so you can find everything you need to start thread milling with solid carbide tools and getting incredible results that comes with using these tools. If you have any questions about the tools that they offer, feel free to reach out to the Online Carbide team by sending an email to sales@onlinecarbide.com.
For more information about Buy Carbide Drills and Chamfer Mills Please visit : Online Carbide.