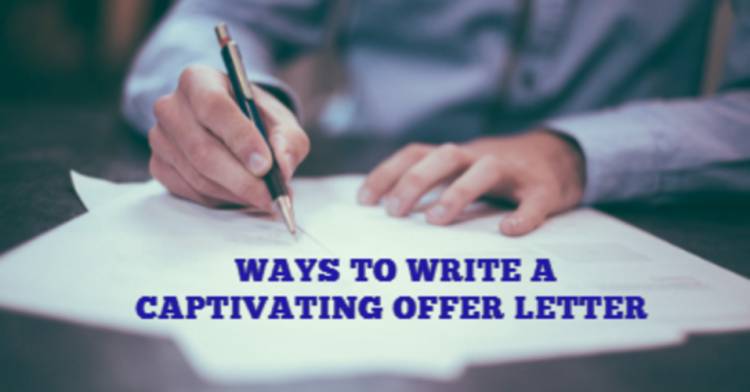 What is Offer Letter & How to Write It?
Offer Lette Meaning
A standardized document sent to applicants chosen for jobs is a work offer letter. It's a great idea to provide written notice of an offer so that the terms of a position are transparent to both the employee and the employer.
---
What is the legal validity of an offer letter?
---
It is valid against you - you cannot ever claim anything which is NOT specified there. It is true against the Company to the degree that it does not apply to any other Policy document - if it does, then the Offer Letter and the Policy applied to can be stated only in violation of both.
---
Benefits
---
To inspire an applicant to accept your job offer, summarize briefly the main benefits provided by your organization. As this is best suited for an induction kit or employee handbook, avoid having too much information. In the offer letter, you might briefly mention attractive benefits, such as:
Insurance coverage

401(k) plan

Paid time off

Flexible spending accounts

Educational assistance

Flexible work hours

Work from home options
---
What is included in a job offer?
---
A job offer letter from employer to employee should include:
Job title

Job description

Starting date

Work schedule

Reporting structure

Salary (Compensation Bonus or Commission)

Paid time off

Employee benefits

Privacy policies

Termination conditions
---
Offer letter Format
---

MM/DD/YYYY
Company Logo
Candidate First and Last Name
Candidate Address
City, State, Zip
Dear [Candidate Name],
We are pleased to offer you the full-time position of Financial Analyst at [company name] with a start date of July 1st, 2019, contingent upon a background check. [manager/supervisor name] at [workplace location] will be your primary contact and manager on site. It is in our opinion that your abilities and experience will be the perfect fit for our company.
In this role, you will work directly with business leaders to identify opportunities and drive process improvements. You will lead short-term and long-term financial planning, coordinate and support the month-end close process and present financial summaries and business insights to senior management. You will develop scalable and efficient financial processes that support the business
The starting annual salary for this position is $60,000 to be paid on a semi-monthly basis by direct deposit starting on July 15th, 2019.
Your employment with [company name] will be on an at-will basis, which means you and the company are free to terminate the employment relationship at any time for any reason. This letter is not a contract or guarantee of employment for a definite amount of time. (Source: Indeed)
As an employee of [company name], you are also eligible for our benefits program, which includes medical insurance, 401(k), and up to two weeks vacation time. Other benefits will be described in more detail in the employee handbook and orientation package.
By signing and returning this letter you will confirm your acceptance of the offer. Please respond no later than July 1st, 2019.
We look forward to having you on our team! If you have any questions, please feel free to reach out at your earliest convenience.
Sincerely,
[Your Signature]
[Your Printed Name]
[Your Job Title]
Signature: __________
Printed Name: _____
Date: ____________