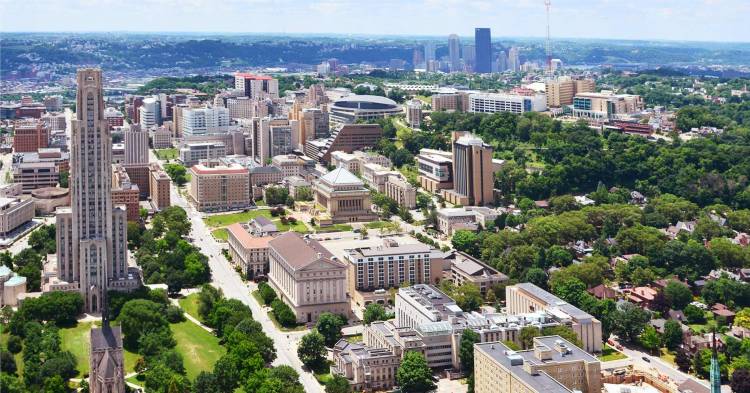 8 Best Under-the-Radar Cities in America to Visit on Your Next Vacation
With some of the most amazing things in life flying by unnoticed, it should come as no surprise that there are fabulous under-the-radar cities in America to explore. Although known to very few people, these are absolutely fantastic cities to visit in USA. If you happen to be the adventurous types who love exploring lesser-known amazing places, these radar cities in America are tailor-made for you. Whatever type of adventure you prefer, be it nature or city-based, the off-the-radar cities in America cover it all.
---
Offbeat Tourist Cities to Visit in USA:
---
We've listed some of the coolest of these under-the-radar cities below for you to consider visiting on your next vacation. You don't even have to spend endless hours planning for a vacation. You can just snag a couple of cheap last minute flights to one of these hidden gems in the US. So check our list of the lesser-known but top US cities to visit on your next vacation.
---
1. Walla Walla, Washington
---
Why should you visit? Well, for one, the name is quirky enough to pique your curiosity. Secondly, the place is a paradise for wine aficionados. You could spend an entire week here winery-hopping and it wouldn't be enough! Popular wineries to visit include Spring Valley Vineyard, Reininger Winery, Browne Family Vineyards, Charles Smith Wines, and Woodward Canyon among others. The region also produces for the world-famous Walla Walla onions which it celebrates at the Sweet Onion Festival held in July.
---
2. Corpus Christi, Texas
---
This is among the best under-the-radar cities in America for water sports enthusiasts. Options are many when it comes to waterways with the most popular ones being Bird Island Basin, Laguna Madre, Corpus Christi Bay, and the Gulf of Mexico. Amateur surfers can head over to the Padre Island Surf Camp for lessons. There are kite-boarding options as well. If you'd rather enjoy calm waters, an excellent option is the Water Dog Floating Yoga.
---
3. Rochester, Minnesota
---
Rochester is among the best cities to visit in USA during summer or any other time as well. You can enjoy snowfall during the winter or stroll under the bright sunny day on a spring morning. Walking through spectacular autumn trees is also an awesome experience. The Rochesterfest is held during the summer while winter brings with it SocialICE and WinterFest. Check which one you'd like to attend, book a few cheap business class flights and be on your way!
---
4. Fort Myers, Florida
---
Fort Myers isn't just one of the coolest cities in USA, but it's also among the best family vacation spots in the US. This is the ideal place to visit with kids if you wish for them to have a fun yet educational trip. The Edison Festival of Light is perfect for science-loving kids as it celebrates invention with an array of exhibits, music, and parades. Bookworms of all possible ages can enjoy the Southwest Florida Reading Festival. Shell Factory and Nature Park is best for a close-up of sea as well as land critters. Fort Myers is simply the best radar cities in America to visit with family!
---
5. Boise, Idaho
---
For all sorts of attractions in just one place, visit Boise in Idaho. Among the most spectacular under-the-radar cities in America, Boise offers attractions that cater to all types of travelers. It's one of the best cities to visit in North America for foodies as it offers anything and everything from tacos and greens to fresh burgers and delicious cocktails. Attractions for nature lovers include Boise Whitewater Park and Bogus Basin. Art enthusiasts can enjoy exploring Boise Art Museum, Idaho Shakespeare Festival, and the Basque center.
---
6. Sioux Falls, South Dakota
---
Sioux Falls is among the best radar cities in America for travelers seeking 'outdoorsy' places to visit. Although with a small-town charm, the place offers some of the most exotic views of vast open landscapes. Falls Park is among the must-visit places offering huge open spaces where you can relax as you let your mind wander off to places without boundaries. Other such places offering scenic landscapes are East Sioux Falls Historic Site, Mary Jo Wegner Arboretum, and Big Sioux River Recreation Park.
---
7. Natchitoches, Louisiana
---
You've never heard about this? You wouldn't be the first. Natchitoches is among the best under-the-radar cities in America for couples looking for a romantic sojourn. Replete with European architecture, horse-drawn carriages, spectacular river walk, high-end restaurants, and delicious food, Natchitoches offers visitors an international travel experience. There are several good places to stay at suiting travel budgets of all types.
---
8. Knoxville, Tennessee
---
In a league of its own, the place is simply amazing for ardent music lovers! Some of the most famous people with ties to this incredible city include Dolly Parton, Roy Acuff, and the Everly Brothers. This is one of the best under-the-radar cities in America definitely worth booking cheap flights to! Popular music venues to explore include Open Chord Music, The International, Market Square, and Bijou Theater to name a few. Knoxville (not to be confused with Nashville) is any music lover's dream come true.
Click Here To See More