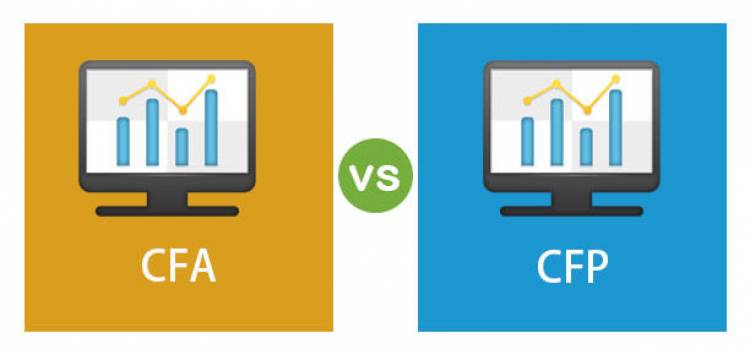 CFP vs CFA
This is a common question that gets asked, what is the difference between the CFP and CFA courses? Well for starters, there are quite a few.
Firstly, the CFP certification is regularised by the Financial Planning Standards Board (FPSB) USA, whereas the CFA certification is regularised by the Chartered Financial Analyst Institute, previously known as the AIMR (Association for Investment Management and Research)). The CFP course focuses on commitment to competent and ethical financial planning practice whereas CFA measures and certifies the competence and integrity of financial analysts.
In terms of structure, the CFP exam has 170 multiple-choice questions addressing areas included in the Principal Knowledge Topics. There are 3 different question type's i.e. stand-alone questions, short scenarios and case studies. Under CFA, the exam structure requires 3 levels to be cleared. The exam format is 240 multiple choice questions to be completed within six hours for level 1, The exam format is 21 item sets (mini case studies) with six multiple choice questions for each set (120 questions total).The exam format is between eight to 12 multi-part structured essay questions and ten multiple choice questions to be completed within six hours.
As can be seen, for person to complete CFA the requirements are quite stringent and need professional work experience, a bachelor's degree or be in the final year of the bachelor's degree program. Or alternatively the candidates need to show a combination of professional work experience and education totalling four years. Whereas for someone to become a CFP, the process is much easier wherein the students need only to be 12th pass out, and complete the course in 6-8 months. Also there's a challenge status route which helps professionals to become CFP's at a much quicker pace by using their work experience.
The CFA course has subjects like Ethical and Professional Standards, Quantitative Methods, Economics, Financial Reporting and Analysis, Corporate Finance, Equity Investments, Fixed Income and Derivative Investments. Whereas CFP consists of Financial Planning Principles, Process and Skills, Financial planning process, Financial Management, Tax Principles and Optimization, Investment Planning / Asset Management, Risk Management and Insurance Planning, Retirement Planning, Estate Planning and Wealth transfer and Integrated Financial Planning.
The students need to focus and put lots of efforts in both the certifications, however the CFP course is a lot more doable hence is a first choise professional course for most of the students and professionals today. There are lots of institutes like Financial Planning Academy that provide great trainings for students to clear CFP at one go.
If you want to make your career in financial planning then CFP is the course for you.
Click Here To See More