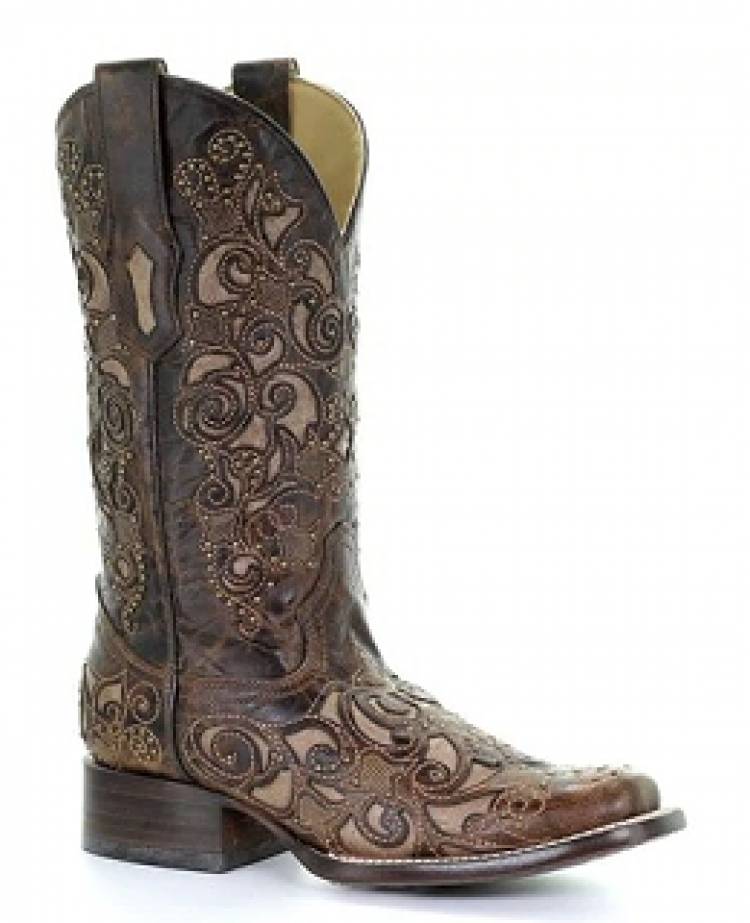 Corral Cowboy Boots Set Themselves Apart
Depending on your tastes in western fashion, you might have very specific interests in a few specific brands of cowboy boots. Whether you prefer form or function, for example, might guide your purchasing preferences. It can definitely be said that there are some designers out there who place a premium on aesthetics, whereas others take more of a focus on rugged functionality and dependability. The good news for you is that with a little legwork you can find the best of both worlds in Corral cowboy boots.
Corral is a self-styled "niche-cult" western company that is proud of its designs which merge the traditional styling of western boots with unforgettable, even iconoclastic styles. They take pride in the fact that they do a bit to break the mold and go beyond convention, producing styles of western boots that are at once traditional and nearly modern.
Corral boots sit at a meeting place where the waters of traditional inspiration enjoy their confluence with the springs of modern appeal. If you take only a few minutes to get familiar with some of the styles in Corral cowboy boots that you can find at a supplier like Jackson's English & Western Store, then you will quickly develop an appreciation for them if you love a fine visual aesthetic that is not afraid to be individual and bold.
At first glance the western style is unmistakable, but with a little more familiarity you will start to recognize that Corral goes its own way when producing a design. Many traditional cowboy boots rely on stitching patterns and high contrast leathers to make their presentation. Corral's design goes much further than this, incorporating eclectic and far-reaching influences into their boots. In many ways, they are some of the flashiest and most visionary boots in western fashion.
Their western boots are not just impressively, even ornately styled, but they contain some elements that are otherwise rare or even absent in other boots. Jackson's collection of Corral boots, for example, is rife with models that are graced with delicate and intricate embroidery and even inlay and studs. They do not only rely on the interplay between their elements of color but bring complexity into the fold of design. Many of their boots are so elegantly and richly detailed that you might be prone to forget that you are looking at a cowboy boot for a moment or two. That patchwork and tracery that typifies their boots are simply astounding.
Don't let that fool you into thinking that Corral boots are just made to be viewed, however. Much like any company vested in the heritage of hard work of its wares, Corral is committed to providing some of the toughest boots in the industry, made to represent the ideal balance between form and function. If western boots aren't defined by their rugged dependability, then they won't be good for much. That's why they exist in the first place.
If you're looking for a high-quality pair of western boots such as Corrals, then check them out at Jackson's English & Western Store mentioned above at JacksonsWestern.com. There you will find a diverse range of Corral cowboy boots along with boots from Double H, Ariat, Durango, and many other producers.
At the same time, if you can spare some time for a trip to their retail outlet in Wayland, Michigan, you should take advantage of the opportunity. Their staff is helpful, knowledgeable and customer service oriented, and they offer several invaluable services. If you stop by their store, you can take advantage of their boot fitting, stretching, and break in services. Check out their website or give them a call at 269-792-2550 to learn more or plan your visit.
For more information about Ariat Steel Toe Boots and Mens Western Wear Please visit: Jacksonswestern.