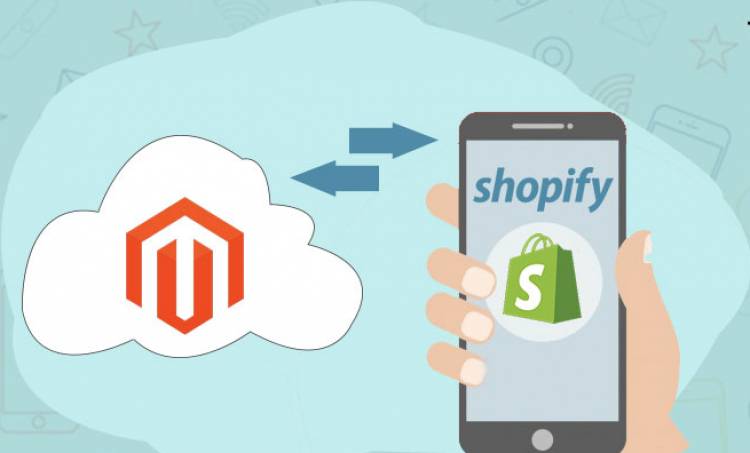 A Guide on How to Migrate from Magento to Shopify
No doubt Magento to Shopify migration is a complicated and time-consuming task, but the impact it has on the performance and functionality of your site is just worth it. Moreover, there is always a chance for you to get access to more features, improve the overall design of your website, and change the layout of your Store.
Do you know about the migration process from Magento to Shopify? If not here are the details to get you through.
---
Magento to Shopify- How to do it?
---
Here is a clear breakdown of the process that will make the Magento to Shopify migration easy for you. However, the method you choose for your migration has to be decided to keep in mind your level of experience and expertise. Moreover, you also have to consider your budget and deadline for migrating.
---
1. Open a Shopify account
---
For opening a Shopify account, all you have to do is click on register my account, and you will get one. Moreover, there is nothing to fear about the cost as Shopify offers the users a trial period of 14-days. With this, you will have more than enough time to try out and confirm that the platform is the best for your business.
No doubt the free trial is a great way to start, but you should not forget to find the pricing plan of the platform to see if it fits in your budget and expectations. Research about that payment, shipping discounts, and staff accounts to determine which one will be the best plan for you based on your current business and expected growth. In case you want any guidance or need any help, you can always contact the expert.
---
2. Compute migration plan
---
You need to finalize the data you need to transfer from Magento to Shopify app. The work can become easy if you start from the Shopify App Store. Take a look there and see what all data can easily be replaced from the Store or what will cost you if you accommodate. Also, check for the free options available.
Now, unless you are an expert or are planning to migrate yourself, we advise you to take help from a technical partner who is experienced in Shopify development and migrations. They will recommend you better and provide you with the right guidance as to what can be recreated on Shopify and what all things need to be migrated.
---
3. Be ready with the backup plan
---
It is an essential rule of migration. Never forget to be prepared with a backup. In your case, as you are migrating from the magneto, you need to make use of your own hosting meaning you can keep your back up here during the process. It is important to keep your backups safe throughout the migration. Also do not forget to keep an offline copy somewhere as no one would like to pay for hosting backup data.
---
4. Transfer your data
---
E-Commerce stores are completely dependent on data, so you need to take care of the important files first. Make sure to start your migration process with products then customers and then finally go to historical orders. This will ensure everything gets transferred correctly and you receive everything detail from history to present in Shopify.
---
Now how do we transfer the data? Here are a few ways-
---
• If you already have a Shopify Plus account, a lot of your work will be done very easily. The app automatically will convert all your existing data into CSV files and then import it into Shopify.
• You can also take help from other migration apps like LitExtensions or Cart2Cart. They both are free to install, but their services will somewhat cost you. You won't be able to use their free services for long. So, keep this in mind.
• If you have hired a Shopify expert let them take complete care of your migration process. This will make sure the process done by an expert helps rather than an automated process that does not understand the unique aspects of your data.
Hiring a professional is always better because not everyone wants to go to a Shopify Plus account and while coming from Magento you are going to have some custom features that need some extra care to be migrated.
If it wasn't enough reason for you, then we have already mentioned the series of migrating the data.
---
Magento to Shopify Migration- key Differences
---
It is worth mentioning the difference between Magento and Shopify product systems. No doubt both the platforms use the same product architecture, but the variation between Shopify is the collection, and the category clearly shows there is some work required.
This is the biggest reason why you should avoid a manual transfer. Using automated services or getting help from an experienced developer will ensure all of your categories are transferred safely to collections. However, it is always a good idea to review the final results that will ensure the transfer is done correctly.
You have two options to choose from- folksonomy and taxonomy. Most of the business owners use Taxonomy as it uses a top-down view ensuring the product does not get into other categories through rigid parent categorization.
Furthermore, everything has to be decided keeping in mind your business but not the customers. No doubt it will require some extra work, but it will be SEO friendly.
On the other side, with folksonomy, your customer will be able to add tags and provide more information on your every product. It will not only give more freedom, but it also means that the result of categorization will be wild and will lack the levels of orders defining the relationship between parent and child categories. In case you use SEO strategy, it can be you are likely to have less control over your individual products. This is the reason why folksonomy is considered useful.
---
Tags and Attributes
---
It is just the right time to examine how your products are tagged. No doubt Magento product attributes look similar to the Shopify stock system. However, it is Shopify's attributes that give e-commerce more potential to grow.
On one side tags refer to static entries while the attributes are responsible for pulling out rich content, including the external contents via API. It can be used to efficiently serve custom options or options that you will want to change over time.
We know it might look daunting to you, but there is nothing to worry about. There is always a third-party tool available that can help you make the process automated.
---
5. Organize the data
---
Now all the data you required to operate on Shopify has been transferred. You can easily check there working within the platform. While doing it make sure to see that all the products have their respective information, meta description, and pictures.
If you find everything is there, you can start creating your collections to help organize your products into useful categories.
---
6. Check for shipping, payment, and taxes providers
---
Now once all of the products and customer information are loaded into your Shopify account, you need to ensure you have all the shipping and payment provider options on the new platform along with the required tax systems. Don't worry about migrating or integrating functionalities. There are some third-party tools to help you with that-
• EZ Exporter for integrating order exports
• UPTracker and Massfulfill for handling shipping imports
• Stock Sync for updating the products on the website
By using these tools efficiently, you will reduce your tension and your Magento to Shopify migration will be easy and will be performed just as intended.
---
7. Run test
---
Now before you put your new version of the website in public, you need to run a few test orders within the platform just to ensure everything is operating fine.
Test all the processes right from the beginning to checkout to ensure your website is operating smoothly and performant. Also, see that the customer's data and the chosen products are displayed accurately. Once done, it is time for some last-minute fixes.
---
8. Migrate the rest of the data
---
There might be some of your details that you have not migrated yet like web pages or SEO settings. You need to complete the migration plan now.
---
Here's what you need to cover in this stage-
---
• Leftover data and content-
---
Now when your product listings and customer information have been transferred, and you have all the shipping and payment functionality working properly, you can add additional pages for content like blogs on your website.
---
• Google analytics
---
If you are a Google analytic user, it is quite easy to move over to Shopify. However, you need to keep in mind that if you don't change your URL, your data will remain consistent, but with an addition of a new URL, a new page will be added within Google analytics.
---
• Redirects
---
When it comes to URL, it is not a problem to set this app in Shopify. However, it would help if you saw that all your URLs from the Magento store lead you directly to your page on the Shopify version. We would recommend traffic control for managing bulk redirects. It is a very handy application for larger E-Commerce stores.