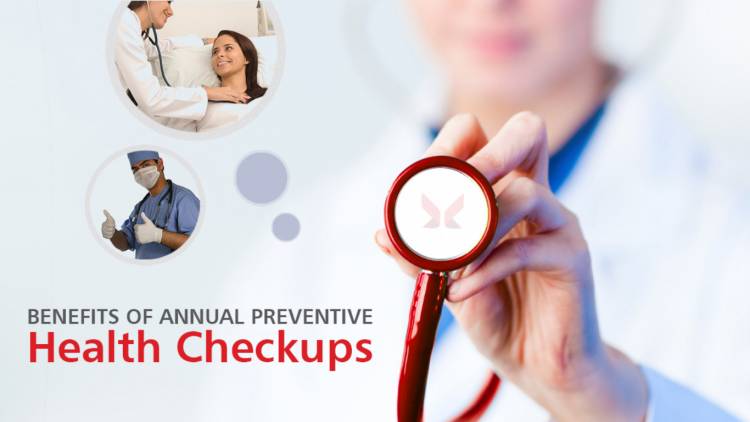 Six Reasons Why Taking Preventive Health Checkups Is Must for Everyone
According to the recent studies, almost 60-70% of diseases can be prevented with the timely assessment and intervention. Most of us ignore the most vital asset of our life i.e. health while making the arrangements of the other useful things in life. But, we forget the most important thing i.e. everything else is meaningless for a human body with full of diseases.
The fact is that we even sometimes notice the little signals our body gives us, but don't have enough time to respond to them due to our busy social lives and hectic work schedule. The only time we look into the matter is when our body starts giving up and we rush to the emergency room of the hospital. Here a big question arises on our mind is that why we don't pay attention to the old saying, "Prevention is better than cure?" Yes, we should not wait for a health crisis to strike. Ignoring preventive health checkups may result into a big health loss in future.
Here are six imperative reasons why you should approach an appropriate preventive health checkup company now:
---
Rising Health Issues and Changing Lifestyle
---
Although today's fast-paced human lives are full of fun and excitement, it is responsible for pushing a number of essential things at the bottom place in our priority list. A very little space exists for the workout and physical activities, while the junk food succeeds in occupying a considerable room in the lives of people from different age groups. A disturbed lifestyle can cause more than 60% of ailments in the health of an individual.
---
Vitamin Deficiency in India
---
Reports say that approximately 6 out of 10 people in India have some kind of vitamin deficiency. Most of them suffer from the deficiency of vitamin D. As a result, such people are prone to weakness, fatigue, osteoporosis and fracture.
A good number of men, women and especially children in the county suffer from the problem of anemia, which is generally caused by the iron deficiency. However, the good news is that the proper amount of food and supplementation can help to cure these sorts of deficiencies with ease.
The air pollution in Delhi has also been affecting the lives of many residents badly in the last few years. Although we all take necessary measures to fight against the bad effects of pollution, it might not work after a certain point. So, there is an urgent need to use a full body checkup to prevent various life-threatening diseases.
---
Aware and Overcome the Risks Earlier
---
As we know that it has become easier for the doctors to treat and cure even the critical diseases if they are diagnosed at their early stage. However, there are several critical illnesses, which give very little early signs. An appropriate preventive health checkup helps know you everything what is happening inside your body and finds out any potentially severe illnesses that may be developed later.
In addition to this, early treatments are comparatively lesser expensive and there are also higher possibilities of getting any diseases healed out if they are diagnosed timely.
---
Lower Healthcare Costs
---
Nobody wants to bear the costs of expensive healthcare treatment. And, the truth is that it becomes very difficult for a common man to deal with such a situation. In order to lower the futuristic healthcare costs, it's important for everyone to schedule the regular health screening.
Going through the regular health check-ups make sure that you will save a significant sum of money in the long run. This happens since it reduces the chances of being exposed to any serious and life-threatening diseases. As a result, you will stay away from the unwanted undergoing surgery as well as other medical expenditure.
---
Screening of Blood Tests
---
A blood test is a prerequisite for a regular health screening of a human body. The primary purpose of getting it done is to mitigate the risk of any ailments that can be found out through your blood.
Some of the diseases that can be diagnosed with the timely blood test report include HIV/AIDS, anemia, high blood pressure, cancer, diabetes, cholesterol and coronary artery diseases. It also becomes very easier for a doctor to find out the health conditions of your various body parts, including heart, kidneys, liver and thyroid.
---
Give You Keys to a Healthy Body
---
When your body checkups are done in a reputed health care center or clinic, you will receive the health screening report that will help your healthcare provider to get the complete report on your health.
Your healthcare provider goes through your report and suggests you with the best tips on what to do to get an improved health on the basis of that report.
There are many people who don't their dental health seriously at initial stages. Time passes by and that problem turns into big. However, such problems can be handled easily by just making a few changes in lifestyle if identified at an early stage.
On the contrary, if the disease is diagnosed at a critical stage, it's not easy for a doctor to deal with it. Apart from this, the treatment of a disease at an exacerbated stage also makes a big hole in a pocket of a patient.
So, when you put the regular check-ups on the priority basis, this actually results in keeping you updated with what you actually need to enjoy a healthy and disease-free life, while reducing the risk of being exposed to many severe health conditions.
Conclusion: There are countless health organizations specializing in offering preventive healthcare services to people. Know your health needs first before approaching any preventive health checkup company. Good luck friends to choose the right solution for you and your family! Wishing you a healthy and happy life J