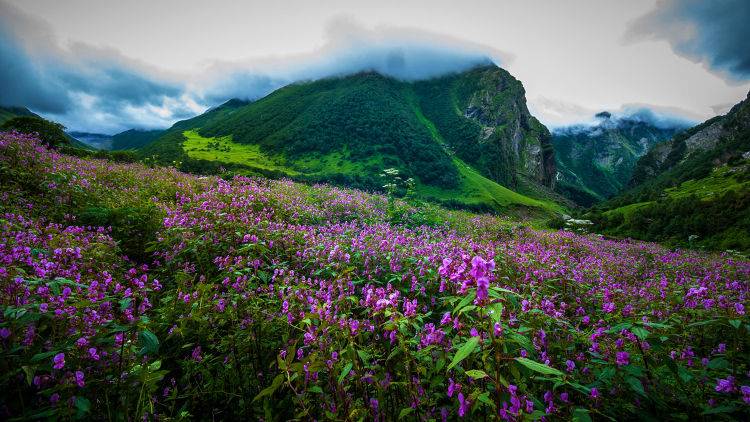 Valley of Flower- A Nature's Trail
Uttarakhand state is one of the state of India which has beautiful valleys, Himalayan mountain ranges, picturesque locations, and several tourist spots. Apart from it, Uttarakhand has major pilgrimage sites and religious places. Due to all these specialties, it is like that god has created this land that's why it is also called-" Devbhoomi".
There are several tourist destinations which attract tourists from all over the world and from other parts of the country in itself. The Valley of Flowers is one of them where each year tourist visits it in huge numbers. This valley is situated in the Chamoli district of Uttarakhand, which is the part of Garhwal region. The whole valley is surrounded by Gharwal Himalayas. It cast its spell on every visitor.
This valley is the accidental discovery by the British mountaineer Mr. Frank S Smith in 1931. He was returning from the successful expedition of Mt. Kamet then he and his team lost their way and accidentally reached into this valley. As he saw that the complete valley was full of different species of flowers he named it -" Valley of Flowers". This valley is the part of national park. This valley was declared as a natural reserve in 1982 and later it named as Nanda Devi Biosphere reserve in 1988. This valley comes under the core area zone.
This valley is seated at the elevation of 3658 m above the sea level. This is administered by the Uttarakhand Forest Department.
---
Itinerary
---
Day-1: Haridwar - Govind Ghat Base Camp
Day-2: Govind Ghat - Ghanghariya
Day-3: Ghanghariya - Valley of Flowers
Day-4: Ghanghariya - Hemkund Sahib
Day-5: Ghanghariya - Govind Ghat
Day-6: Govind Ghat - Haridwar
---
How to Reach
---
There are several ways to reach the Govind Ghat base camp. The nearest major city of Uttarakhand is Haridwar which is nearby hot spot to the Garhwal region of Uttarakhand state. Haridwar is well connected by all the major cities of India.
By Road- Haridwar is strongly connected with all metro cities like Delhi, Jaipur, Lucknow. From there government, as well as private buses, are available to reach Govind Ghat. Distance between Haridwar and Govind Ghat is 292 km and in terms of time duration, it is 10-11 hrs.
By Air- Jolly Grant Airport, Dehradun is the nearest airport and it is 285 km away from Govindghat. This airport is connected with all airports via Delhi. After checkout from the airport, you can hire available private tourist cabs which will take you to Govind Ghat or you can also take a private or government bus.
By Train: Haridwar railway station is the major railway station nearby Gharwal, Uttarakhand. It is well connected with all railway stations in India.
---
Things to Carry
---
Water Bottle

Thermo Flask

First Aid Kit

General Medicine Kit

Any Special Medicine Prescribed By Physician if any

Sunglasses

Sunscreen Lotion

Lip Balm

Led Flash Lights

Camera

Extra Camera Batteries

Personal Toiletries

Trekking Shoes

Trekking Jacket

Trekking Pole

Backpack

Rain Gears

Woolen Clothes

Woolen Socks

Fleece Jacket

Thermal Wears

Extra Pair of Socks
---
Advisory
---
Capture all the best scenes visible. Through photographs, the wonderful memory of trekking will remain forever.

Try to avoid plastic use as much as possible. In any case, if you have used it then dispose of it properly.

In place of plastic bags try to use bags made by cloth or paper.

Do not have heated arguments with your trip mates. If you have any issues with then discuss with them and with the team leader. It will help you to make harmony during the trip.

Do not put any religious commenting on trip mates, local peoples.

Do not litter.

Carry essential identity proof with you so if there is any requirement of it to show authority then it may eliminate any kind of conflict with them.

Obtain all the mandatory permits and licenses before starting the trekking day prior. It will help you to reduce the wastage of time.

As you will be trekking in the natures trail so try to avoid any kind of activity which harms nature. It is a little but effective contribution to save nature

Respect the local people and their culture. It will help you to have harmony with them

Respect the local deities as local people connected with them emotionally.It is just an exchange of respect.
This is all about the Valley of Flowers. So "Keep Traveling, Stay Blessed".