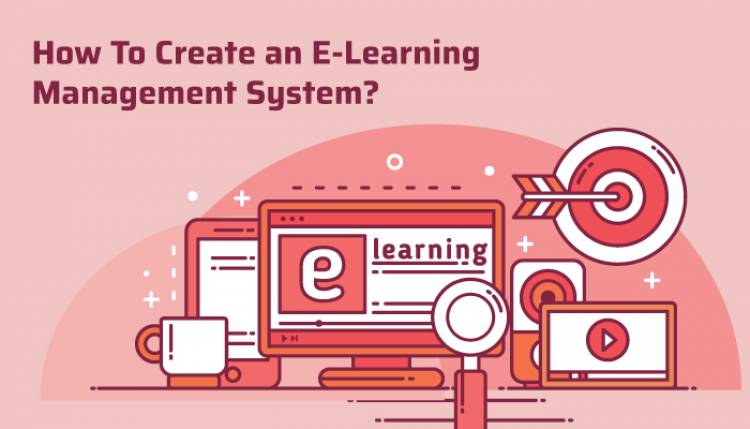 How To Create an E-Learning Management System?
An E-Learning portal is a website that allows learners to access educational content in an interactive way. As the pandemic continues, mastering new skills and learning online will remain the trend among individuals around the world.
Today's era is full of digitalization where everything is online. If you are looking for how to create an e-learning management system, You're at the right place. In this article, I've covered several aspects of education app development, so don't bounce back.
Status of Global E-Learning Market
Research by GlobalNewsWire found that the global e-learning market, which was estimated at $144 Billion in 2019, will reach $374.3 Billion by 2026. The market is expected to grow at a CAGR of 14.6% during the forecast period.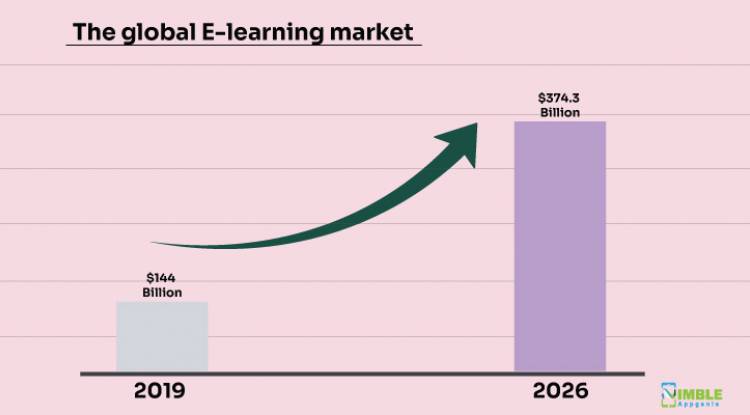 Steps To Create Online Learning Portal
Set Clear Learning Objectives and Online Presence
The first is to have a clear mindset to set the objectives. Students who learn from online courses move at high speed that indicates that objectives will facilitate faster adoption. When you're done with setting the learning objectives, you should design your e-learning portal wireframes that will give you an overview into how the learners will perceive your app.
After setting objectives, your next task is to create an online presence in the market, and for that you need a name with a domain available for it. Always take names that reflect your niche. Through this you can make your online presence very effective.
Know Your Audience and Competition
Every software solution development process begins with market research. In the market research process, the first thing to analyze is identifying the target audience and understanding their pain points. When you know their problems, it becomes easy for you to understand how your e-learning portal can help them with their problems.
The same process goes with custom eLearning development. As there is a serious need for online learning, it is essential for you to find where the opportunity lies in terms of your target audience.
After analyzing your target audience, you should analyze the existing players in the e-learning market. I would refer you to perform a SWOT (Strengths, Weaknesses, Opportunities, and Threats) analysis, which will help you identify how you can shine over your competition.
Plan the Content Effectively
As we all know the difference between traditional classrooms and virtual classrooms, we should focus on making educational content crisp, impactful, relevant ,and in-depth to deliver the desired output. For example, you can also add reference materials as external links. If you integrate all these options, it makes the entire content very precise for students.
Always use multimodal content by mixing various media such as texts, audio & videos, presentation slides, infographics, and many more. This multimodal content approach proves to be more effective than simple content such as text or audio.
Make Portal Interactive
If your E-learning management system is not interactive or engaging, then sooner or later, students will definitely drop it. The world is going online, so always try to ensure that your educational content developer provides a good amount of engaging content and opportunities for students in any form like audio, video, or text. This will help you in gaining a massive amount of users.
For better results, it is important to keep the user interface and experience simple. Always think from the perspective of millennials, Generation Z, and Generation Alpha, who will be taking up these courses and keep updating according to their tastes and usage.
Identify the Right Development Partner
In 2021, when even the tech giants like Google and Adobe are outsourcing part of their software development work, it is mindful of getting your e-learning portal developed by education app development experts.
Do you wonder, how will you select the right education app development company? No Need to worry about it. I'm mentioning few questions below which you need to ask the shortlisted development companies before you outsource your project to them:
What development process do they follow?

What will be the cost?

How do they make sure quality deliverables?

How will they do the management of the project?
Last but not least, before you share your business idea with the education app development companies, don't forget to sign an NDA which will safeguard your intellectual property.
Cost of Developing an Online Learning Portal
The cost of developing a remote learning portal depends on many factors, including content elements required features, technologies, platforms, interactivity levels, and location of your development team.
The overall cost of developing a learning management system can vary greatly from $30,000 to $100,000.
Conclusion
I hope you've got your answer to how to create an E-Learning Management System. The steps I have mentioned you should follow while creating an online learning portal to enhance the user experience.