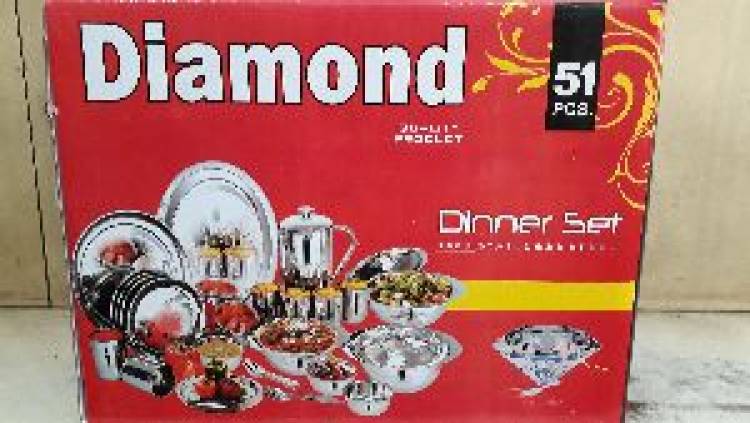 Dinner Set Buying Guide
Dinnerware makes for the primary attraction of a dining table. With the evolving of times, dinner set is now more than a mere means for serving food. Visually appealing dinner sets can elevate the essence of your meals and creates the mood for your dining experience at home, besides showcasing your preference.

How your dinner set looks, the maintenance, and your way of using it all must be taken into account before you decide what type of dinner set to invest in.

The Available Types of Dinner Set
The Tone
The first point of consideration is the tone of your dinnerware. Generally, the dinnerware can be categorized into 'formal' and 'casual' type. Think what you want; is it something sturdy that you desire which you can rely upon for daily use? Or is it something attractive that you need for occasions and festivities? Most often or not, the answer to this question is a taste of both worlds.
Go for dinner sets that have flexible tones, as it isn't feasible to invest in a dinner set entirely for entertaining.
The Configuration
The next thing that you must consider is what you expect your dinner set to be. The dinner sets are available in a variety of configurations at the stainless-steel dinner set manufacturer.
• 18-piece dinnerware
18-pieces dinner sets are ideal for dinner parties that you host at your house, thanks to the essentials and accessories they come with.
• 16-piece dinnerware
16-pieces dinner sets are the most versatile choice for all meals of the day and they are perfect for families.
• 12-piece dinnerware
The 12-pieces dinnerware can be chosen for smaller households, given how they come with only the basics.
• 3-piece dinnerware
3-piece dinner sets make for the best gift, and a perfect way to expand your larger dinner set.

The Style of Your Dinner Set
The style of your dinnerware will automatically have your taste and choice reflected. Also, the style of your dinnerware must render pleasure every time you lay on the table. There are myriad dinner sets available in today's world; starting from exciting to whimsical styles. Take your time to pick from a large collection of dinnerware, according to the accessories and home décor.

The Shape of Your Dinner Set
Select the dinnerware shape which best compliments your style. While the square, oval and oblong shape dinnerware comprises of edgier and a contemporary feel, the round shapes have a more classic appeal.

Dinnerware Accessories and Special Serving ware
After deciding on your main dinnerware, it is time to choose the accessories and specialty pieces that adds to the feel of your table. Laying your hand on the perfect tableware accessories is determined by your choice, the way you serve, and how you have your meals.

Jugs and Pitchers
The easiest way to serve drinks is with jugs and pitchers. These two accessories make for an attractive statement and serve a dual purpose: you can use them for drinks or you can place them as a centrepiece to fill them with fresh foliage.

Trivets and Coasters
These are available in a variety of designs and materials and are a unique way to keep your table surface protected.

Tea and Coffee Accessories
The milk jugs followed by creamers and sugar bowls are an important accessory for every host who loves drawing curtains over every meal with a warm cup of tea/coffee.
Apart from this, you must also take into consideration their cleaning and storage. The dinnerware that you invest in and or order from the stainless-steel dinner set exporter must be easy to clean, easy to store, and easy to maintain.
For more information visit: https://www.harshitmetalstore.co.in/stainless-steel-dinner-set.htm