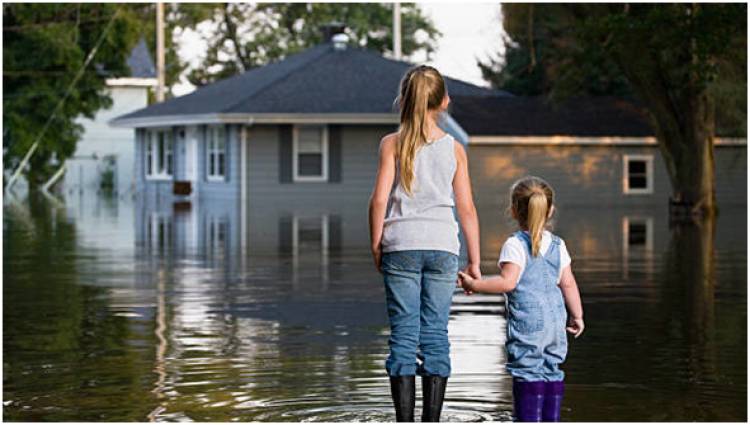 The Importance of Flood Zone Determination in Assessing the Average Flood Insurance Cost
Federally-regulated mortgage lenders must figure out which flood zone a property is in. They need to know this information before a borrower can close on their new home.
A flood zone determination is one of the first steps in determining which rate a property will pay under Risk Rating 2.0. The higher the risk, the more expensive the premium.
Location
A flood zone determination is a mandatory report that includes important information about the property's location and the flood zones it's within. It's crucial because homes in a flood zone must have NFIP insurance, which differs from standard homeowners or renters insurance.
All mortgage lenders must determine what zone a home is in and whether it's in a high-risk flood zone. The primary reason is that houses in high-risk flood zones—zones A, B, C or X, with a Coastal Barrier Resources System (CBRS) status—must have mortgage insurance to secure a federally-regulated or insured mortgage loan.
The flood zones are based on the likelihood and severity of flooding, with some having more risk than others. A flooded house can cause serious damage and result in costly repairs, which is why it's so important to know which zone your home is in.
Many real estate agents and mortgage lenders fail to inform buyers about the risk of a house being in a flood zone, but it's critical for anyone looking to buy a home or refinance a loan. The flood zone designation is a significant factor in setting mortgage insurance rates.
Elevation
As the Biggert-Waters Act and Housing Insurance Affordability Act require that all mortgaged properties in high-risk flood zones (zones beginning with AE, AO, or V) purchase flood insurance, it's important to know your property's location and zone. An Elevation Certificate, or Flood Zone Determination, is critical for determining the average flood insurance cost. FEMA requires these certificates for new construction (or substantial improvement of existing buildings) in high-risk zones, and they help an insurance agent determine the building's lowest floor elevation and flood zone designation.
Zone A: Areas with a 1% or greater annual chance of flooding. These zones usually have a Base Flood Elevation (BFE) indicated by "EL #" on the flood map.
After a detailed ratemaking process, the FIRM shows a community's special flood hazards and the associated risk premium zones. Zone A, the special flood hazard area, includes areas with a 1% or higher chance of flooding in any year. The BFE and flood depths derived from detailed hydraulic analyses are shown in this zone. In addition to mandatory flood insurance purchase requirements, these zones may be subject to other floodplain management standards.
Floodplains
The flood zone where a property is located also plays a large role in how much the home will cost to insure. This is because houses in the lowest-risk zones will usually be cheaper to insure than those in higher-risk zones.
Most flood insurance maps have one or two digits that indicate the property's base flood elevation (BFE). This number is the height in feet that surface waters are expected to rise during a 100-year flood. The BFE is used to determine rates for a standard flood insurance policy. Many older flood maps also include a specific BFE for each flood zone.
People must understand that there is no such thing as a completely flood-proof building. Even homes built on a hill or other elevated land will experience occasional flooding and the damage that can result from it. This is why ensuring a person knows their exact flood risk before purchasing a home in a certain area is important.
Even though some cities have always been settled in high-risk areas, there are ways to limit the impact of flooding on communities. For example, restoring the natural ability of rivers to flow onto their floodplains will allow water to disperse during flooding events and decrease pressure on artificial flood protection structures like levees. In addition, it will lower the costs associated with flooding for both homeowners and businesses.
Additional Coverage
Flood insurance can also include coverage for personal property, such as furniture and appliances. That coverage is important for homeowners, especially those in low- to moderate-risk areas. But, the cost can still be high for those in higher-risk zones.
The national average flood insurance cost is $600 a year, according to NerdWallet's analysis. That is a lot of money but it can help protect homes and families from devastating losses.
FEMA's risk evaluation system, Risk Rating 2.0, sets the average rate a policyholder pays. It is intended to keep the NFIP up to date with models and other methods used by the insurance industry to assess and price risks, damages, and costs.
Many homeowners living in high-risk zones are required by their mortgage lenders to purchase flood insurance, but many people in lower-risk areas also need the peace of mind that comes with having a policy. Changing weather patterns have changed the risk of flooding in ways that weren't considered when the original NFIP maps were drawn up.
To check your risk, enter your address into FEMA's map portal. You will be shown which NFIP zone you live in and the risk rating associated with that zone. For example, New York City is in the X zone, with a 0.2% chance of flooding yearly.