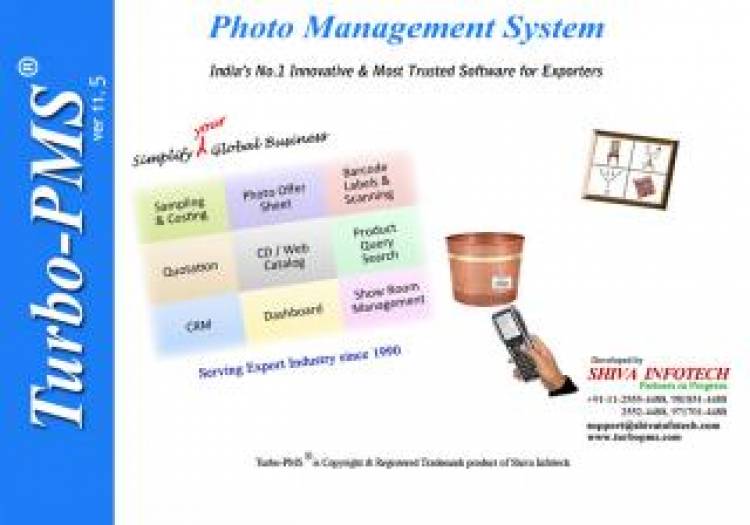 Turbo PMS : Photo Management System Software
Turbo PMS is India's No. 1 innovative software that is specially designed for exporters, Importers and buying agents of handicrafts, Home Furnishing, Garments, Jewellery, Sports Goods, Auto Parts etc.
Turbo PMS provides you an automatic way to generate photo offers sheets and slide shows for your various products.
It has 29 various formats in which you can create different types of photo offers as per requirement. 23 formats in PDF and 6 different formats in excel and also in PowerPoint.
You can easily generate Quotation and proforma invoice instantly on fairground.and you also have an option to send quotation/Proforma through email in PDF & excel format.
Tracks buyer Quote history.

Drawback Calculations.

Raw material Requirement for Analysis.

Factory Order in Excel with item Photo.
It also has the facility of generating barcodes and prints item barcode labels as it has the option to select items through a barcode scanner.
Turbo PMS has an important feature of CRM software where you can enter Buyer's Meetings details/ follow-up entries/ enquiries and complaints.
Turbo PMS consists of showroom sample item inventory which has sample location, challan inward & outward, stock ledger.
Some important Plugins which play a very important role in Turbo PMS has it has
auto conversion of currencies in Price List, Query, Quotes, Barcode Labels, Photo offer sheets.

Auto conversion of dimensions of items from inches to cms.

Auto calculation of CBM, CFT, Container Wise capacity.
Click Here To See More