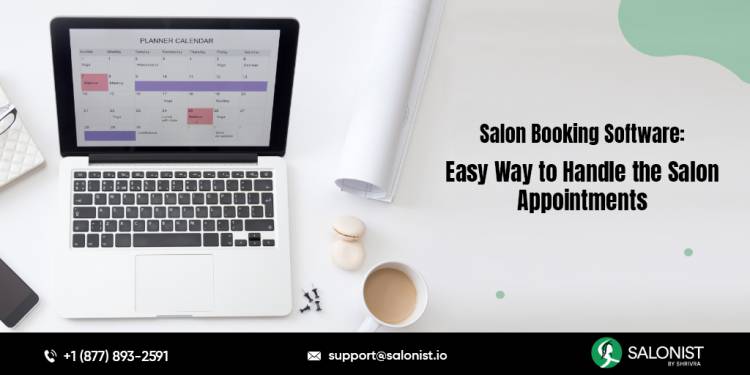 7 Features You Must Consider Before Purchasing A Salon Management Software
The Salon management software is a great helping hand for all those salon owners who want to get speedy success in the business with a little investment and effort. With this innovative tool, they can easily automate different business activities, track the performance of their employees, book appointments with clients, generate accurate bills and interact with customers in real-time. The effective use of salon management software can increase your business output to a great extent.
There are many Salon management software available on the market with different features, functionalities, and specifications, which makes it difficult for common individuals to make the right selection for their businesses. Are you also thinking about which Salon software you must choose? If yes, then you should keep seven things in mind:
Features Must Consider Before Purchasing A Salon Management Software
---
Online Appointment Booking And Cancellation Facility
---
Online appointment booking and cancellation facility is one of the main features that a salon management software should have. Gone are the days when people used to visit Salon centres, wait in line for their turn to receive the requested services. If there are too many customers in your salon centre, then people don't like to wait for their turn. They simply go away from your salon centre never to come back again.
With the use of salon management software, you can book online appointments with customers for 24*7/365 days. The Salon management software automatically shows the available staff, time slots, the available products and services, etc, and allows customers to book appointments with you. In the same way, they can cancel the booked appointment in a few clicks.
---
Instant SMS and Email Reminders
---
All customers love to be notified instantly when they book an appointment with you, ask a question, and place a request for the acquisition of your products and services. Therefore, you should choose the CRM software that automatically delivers SMS and email reminders to customers whenever they deal with your brand.
---
Automatic storage of customer data on cloud service
---
There is a great importance of customer data for all business organizations because it helps them to know more about the mood of customers and correctly predict their behaviour in the future. The storage of customer data and its protection is a big headache for many business organizations because financial criminals always tend to steal business data and get financial benefit out of that. You can't rely on a PC, pen drive, and laptop for the storage of customer data anyone can easily still them and there is a great problem in data mobility and maintenance.
So, you must choose the CRM software which collects customer data automatically & stores them automatically on cloud servers. This will allow you to fetch specific customer data quickly and make more personalized marketing decisions.
---
Integration with a POS system
---
In simple words, a POS system is software that allows cashiers to calculate the cost of different products and services and help them to prepare accurate bills. Its careful use allows you to make more transactions in quick succession and serve a large number of customers. So, you must choose Salon management software that is integrated with the POS system. The POS system must support different currencies of the world and prepare bills in multiple languages. Also, it must have different payment gateways that allow customers to make payments for the purchased products and services by choosing the favourite online method they are comfortable with.
---
Business Mobility
---
It is unfair to expect salon owners to sit and watch the performance of employees all the time. Different distractions of life keep them busy as they have to move from one place to another for doing different works. Therefore, you must choose the CRM software which has a mobile version. This will allow you to conduct your business from mobile devices at all times and get instant notifications about different business activities. This will increase your business up to a great extent and you will be able to serve more customers from all locations.
---
Automatic Creation of Discounts for Customers
---
All loyal and regular customers expect discounts and free gifts if they keep visiting your salon for a long period of time. It is very difficult for a business person to check the purchasing history of individual customers and determine the percentage of discounts for them.
You can use the CRM software for this work. It automatically calculates the purchasing history of customers and determines the percentage of discounts deserved by them. Design software also helps you to redeem the discount coupons and give its benefits to customers.
---
Reports and Analytics
---
It doesn't matter how talented Salon business owner you are fluctuations keep happening in the business. Sometimes you get lots of customers, while some other times you have an acute shortage of business opportunities. Therefore you need different types of reports to analyze what is happening in your business. With the help of Salon management software, you can easily fetch different types of reports and evaluate the performance of your salon centre in an easy way.
---
Concluding Remarks
---
Different companies and brands offered server management software on the web with a wide range of features and functionalities. For a common person, choosing the right CRM software is a difficult task. Don't worry at all. Just keep the above-mentioned features in mind to choose the right Salon management software and take your business to the next level in a few days.