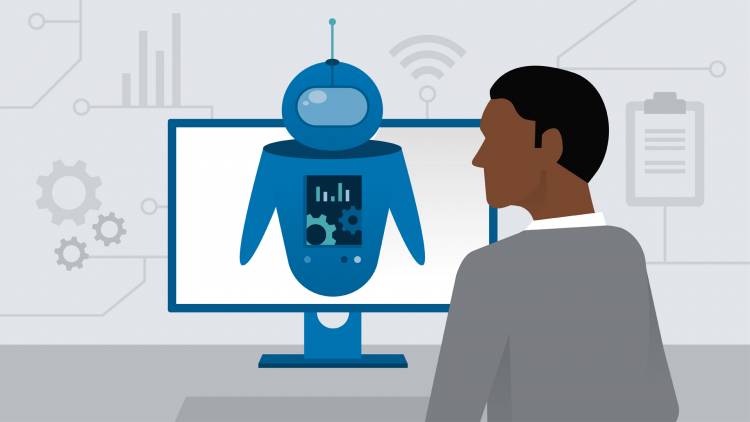 How Robotics Process Automation Is Set to Transform The Way Businesses Work?
Robotics Process Automation (RPA) helps businesses streamline their back office processes. And along the way, it also enables them to substantially reduce their operational costs, free up their skilled workforce, and get a competitive edge over their competition.
RPA is here to stay. It's already started redefining the way businesses look at and manage their back office operations, which can be characterized as high volume, low complex, and repeatable.
What is RPA?
RPA stands for Robotics Process Automation, and refers to the technology that can take great care of the rules-based tasks, such as data entry or data processing. The RPA software can be programmed or trained to trigger responses, manipulate data, and communicate with other digital systems within an enterprise. This enables the enterprise and its management to put their skilled workforce to where they can make a real difference.
In a nutshell, RPA is for your business, particularly for your people who:
Spend a great deal of their time in participating or finishing up structured, dull, and repeatable computer-based tasks. Data entry is one good example here.
Need to access more than one system to complete a back office task.
Take decisions based on pre-determined rules or algorithms.
Leverage workflow to enable interaction with people.
The Outstanding Advantages of Implementing an RPA Technology in an Enterprise Would Include:
A greater level of accuracy and efficiency.
Substantial reduction in operational costs.
Improved decision making.
Enhanced employee satisfaction since they get to do more strategic work rather than spending all their time in long, tedious tasks that don't require much intelligence.
Fast access to detailed and comprehensive audit logs for advanced analytics.
Here are a few industries that could be immensely benefitted by automating their back office operations:
Insurance – Insurance companies are set to register great growth in the years to come, mainly due to an increasing number of people getting financially literate. However, the industry has been particularly slow in the adoption of new technologies and that poorly affects its efficiency and ability to connect with its customers and prospects that are impressively digitally equipped.
Robotics Process Automation can help public and private insurance players to speed up their processes and significantly shoulder their pain involved in processes like policy endorsements, or compliance checks, renewal, and several other tasks.
Banking and Financial Sectors – Private banks have literally changed the banking landscape of India. By implementing RPA enabled infrastructure, they cannot only bring an economy of scale in their operations, but also will be able to have more of their skilled workforce in customer focused areas, while delivering better experience across their multiple customer touch points, including their website and customer care units in their own branches.
Financial organizations can also leverage this back office process automation technique to simplify and automate a number of processes like data entry, account reconciliation, fraud detection, as well as processing credit cards and report generation across systems.
Tourism and Transport – In order to make a mark in this sector, you have to be on your toes and be equipped with the right information when it's needed and where it's needed. By spending significantly less time on tasks such as ticketing, invoicing, or cancellations and refunds, tourism and transport businesses can focus on key business drivers and enhance their customer experience and thus thrive in the constantly dynamic marketplace.
Media – Over the last decade or so, the growth in the media industry has surprised many. Gone are the days when we had just one or two news channels or newspapers. Today we have a great number of news channels and newspapers that cater to specific regions, and are responsible for creating the employment for millions across the country. This growth, however, has also led to a mammoth of back office operations that can be well managed, with new and emerging technologies like RPA.
Among the processes that can be automated, the prominent ones include Ad order entry and booking. Various operations in finance and accounting can also be automated and sped up.
Healthcare and Logistics also stand a great chance to get benefitted from the process automation.
More Value, Less Investment:
Robotics-as-a-Service has been designed to create more value with less investment. In fact, unlike IT automation, Robotics Process Automation is easy to deploy and integrate with the rest of the system, and you can see the returns on your investment in a matter of months. RPA is still evolving as a technology, and holds a lot of promise for businesses that are actively looking for means to lower their costs and up their productivity and profits.
Choosing an Appropriate Approach to RPA
While many industries including big corporate houses have started accepting RPA as a technology to streamline their businesses, it is important for all to know how to choose a right approach to RPA. This simple tool can easily generate a serious amount of buzz if applied perfectly. The proper implementation of the technology can result in a significant increase in work accuracy and efficiency.
Robotics as a service is evolving very fast with having great potential to help businesses keep going in the right direction. The technology grants robots access to cognitive computing powers, storage and communication resources.
RPA solution providers ensure you high quality automation products equipped with matchless capabilities that are capable enough to offer high quality end-to-end engagement frameworks. May be you have to struggle hard to find out the one whose frameworks that cater to all your business needs.
Choosing a right kind of framework will help you keep ahead while building robots as a vendor that is aimed to develop a transparent and long-term RPA partnership. Complying with the four important pillars of Scale, Standardize, Enable and Transform, an effective framewok leverages businesses to embark on a detailed and holistic RPA journey.
Have any query regarding RPA? Get in touch with us by commenting below!