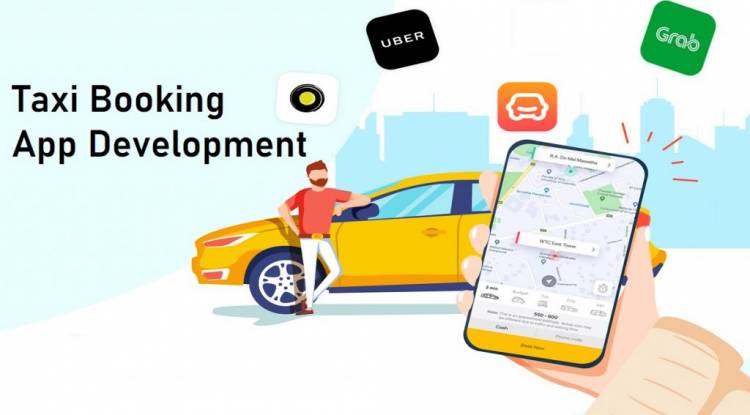 Top Key Features Of Taxi Booking App Development
Everyone can't afford their vehicle, but they can afford a taxi for safe travel. Even if someone has their vehicle but in an emergency if the wheelers are not available then what they do? Search for transport but what if that is not also available and you are in a dark or at a not safe place? of course, Hire a taxi. Even this is the main source of livelihood for many employees working in the taxi business.
Using and booking a taxi has become an integral part of society. As a result, the competition among taxi companies and businesses has surged.
Now, how to stand out in such competition? What new features should a company add to their taxi booking application? To answer these questions, here are some key features that can be added to Taxi Booking App.
---
Don't overlook the Drivers, they are an important part of the Business
---
It is good to run the business according to the customers but neglecting the drivers is not nice. To stick them to your business it's necessary to keep them happy and provide extra incentives for their task. If there is something like they have to complete the certain rides in a particular period and if they pass to do so, then the company should provide them incentives. This helps in keeping them motivated as well as they will do all tasks with great enthusiasm and serve better to your business.
---
Don't fix the fare for the area
---
Supply should be as the demand in the area or time. To do this, the taxi booking app development should add the feature of fluctuating price for every ride. Because there are some areas where the available taxis are less in number, therefore you can set a fare according to that. And when the taxi demands rise in a particular area or for some days, you can set offers and low prices to attract the passengers. You can also use this technique to entice more drivers.
The second thing you can do is contact the professional app development consultant who can help a lot to define all the aspects of this industry and tell how to deal with challenges. Subsequently, will confide which features can attract more customers and drivers. In this way, your business gets a success soon.
---
Understand Your Audiences
---
To integrate unique features in your taxi booking app, research your audience well. First, know the demography to get an idea of taxi service demand and understand the area and to which degree you can offer fare and ride.
The comprehensive knowledge about the demography assists you to determine the features of your taxi booking software. Test until you get the best suitable feature for that area. And this suitable feature will improve your taxi business performance
---
Go with different Payment System
---
Some people like to do payment at the end of the month just like electric bills and water bills, mostly regular riders. So the option of monthly or weekly payment can be helpful for both business and customers. Riders should have the freedom to choose their date of payment, on which they pay all the rides' fare they have taken during the set period. Just like a warning bell, the company can send a notification of payment and if the payment is not made within the specified time limit then they can charge extra, this will keep the customer attentive to pay the bill on time.
Also, you can use various payment methods because it's not compulsory that everyone likes to play with the same method. Companies should offer payment methods of cash, card, and online transactions.
---
Present Special Features
---
A person who is booking a taxi, we don't know whether he/she is physically disabled or travelling with heavy and big luggage or have some other problems. By giving the feature of informing or instructing the taxi driver about all this, this can help in organising the taxi in the same way as the rider wants. Keeping the customer convenience first will keep the customer happy and stick to your company services. Everyone likes to prioritise and feel special when their concern is looked at and solved with such ease. This can increase the overall rating of the app.
---
Protection against cybercriminals
---
If it's not safe then why will the riders choose you? Cybercrimes and data robbing is increasing day by day, it's becoming crucial to protect all the people who are connected with your business. Protecting your drivers and riders should be the priority. Offering rides but not doing anything for their safety is not beneficial for your business ratings at all. Change and strengthen your data policies and challenge the competent market.
---
Emergency 24/7 Service
---
The online booking system is quite safe and secure for riders. This helps riders to travel from their workplace to home at night safely. If your business offers an emergency feature with safety and support, this gives a good impression on the passenger mind. Offering the 24/7 service is not easy but to stand out in this competition and to increase your business. This is quite a good option and additionally, it helps the people to reach their place without any issue.
---
Assure them Safety
---
Is this company safe for calling a taxi? Should I contact my family while riding? How will I reach home? Is a taxi safe for women? These are some questions that come to mind while booking a taxi. Therefore it's necessary to add some features that assure the passenger about their safety.
Especially women have this fear of booking a taxi at night but if your company offers complete safety to them, it can increase your business and rating which will help to compete with others.
---
Do Communicate and Control the software
---
This is obvious, to develop an app requires skills and a professional expert team. For taxi apps, businesses hire a taxi booking app development and they try to contract only the best one so the chances of similarities can be huge. Then how is your service unique? It can be unique from others when you communicate with the developer well about your requirements and needs. Share your ideas, whatever you want within your app. Get More info, better features.
Also, have control of your software and test it before launch by yourselves, if you like it or not. Add or omit features as per your interest.
I hope these top key features of Taxi Booking App Development will be helpful to you.