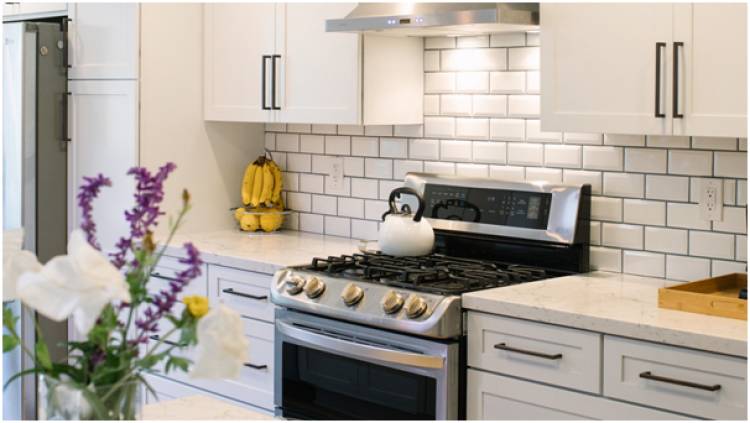 How to Unleash Creativity With Subway Tiles
Create a visually appealing design by playing with tile placement and orientation. This will elevate your tile shower, resulting in a stunning focal point that reflects your unique style and taste.
Try a basket weave layout for a new twist on a classic stacked pattern. Alternating horizontal and vertical pairs of subway tiles will create a woven look that is both contemporary and timeless.
Color
As its name suggests, subway tile was originally used to create clean and bright walls in New York subway stations. Since then, they've become a design staple, cladding bathroom showers, kitchen backsplashes, and other areas prone to splashes and spills.
They are available in various colors, from deep blues and greens to subtle grays and bright corals. Even traditional white subway tiles are gaining popularity, thanks to current interior design trends emphasizing old-fashioned style and farmhouse, rustic, and cottage aesthetics.
Getting carried away with the possibilities is easy, but you should consider your color options carefully before starting your subway tile project. Your grout color is also important and can dramatically change your space's appearance. Grout contrasting with your subway tile adds a pop of color, while grout blending in makes your tile and wall look more cohesive.
Lastly, you'll need to decide how much subway tile you need for your project. Measuring the surface area you'll be covering will help determine this figure. If you're installing a backsplash, be sure to factor in the space above the cabinets, as this is the most susceptible to grease and food spatter. And don't be afraid to take your subway tile vision to the ceiling — you can achieve some truly stunning results by extending it up!
Pattern
Once relegated to subway tile kitchen backsplashes and shower stalls, these versatile materials can now be found in various patterns. While traditional white-glazed subway tiles are still the most popular choice, you can experiment with different tile layouts to find the look that fits your space.
The step ladder arrangement is a classic pattern that's simple to achieve with standard subway tile dimensions. Start by laying one tile vertically, then lay another so its short side rests against the long side of the first tile and its end joints line up. Continue alternating horizontal and vertical "squares" until your wall is covered.
Consider the basket weave arrangement if you're looking for a less traditional yet equally chic pattern. This option is great for larger spaces with a modern mod vibe. Alternate rows of tile horizontally and vertically to create a woven grid effect.
Try offsetting your subway tiles to add visual interest without disrupting the symmetry of a traditional running bond pattern. Alternating the row heights by half will give your walls a unique look perfect for smaller spaces needing a little extra height. Another creative way to show off your personality with subway tile is to add a pop of color. Choosing colored grout over traditional neutrals draws attention to the layout pattern and allows you to create an accent or focal point that stands out.
Finish
Subway tiles have a long history that began with their introduction as a clean and easy-to-clean wall surface for New York subway stations. A century later, these simple 3x6-inch ceramic tile panels have leaped kitchens, baths, laundry rooms, and mudrooms, partnering well with any interior design style.
While a traditional stacked or offset running-bond layout is classic, there are plenty of other creative ways to use subway tile. For example, turn a stacked subway tile layout on its side to create a vertical herringbone pattern that elongates a backsplash or wall and draws the eye upwards. Or, alternate the placement of herringbone and stacked tile to create a more diagonal chevron pattern.
In addition to color, a wide variety of finishes also offer countless options for creating unique and eye-catching patterns with subway tiles. For instance, hand-applied glaze produces subtle tonal variations that can animate a finished tile wall. A beveled edge on ceramic tile can give each tile a sculptural quality.
It's also important to consider the grout color when choosing subway tile. Choosing a grout that contrasts with the tile may seem bold, but it can create a dramatic effect in any space. Alternatively, you can choose a neutral grout to keep the look cohesive and classic.
Material
While they first gained renown for their practical and sanitary qualities when used to clad New York subway stations in the early 1900s, modern-day consumers have been drawn to subway tiles for their timeless elegance and sophistication. Today's market features various options, from classic ceramic to more unique materials like glass and natural stone. They also come in a seemingly infinite number of hues, as well as various finishes. From artisan glazes that create tonal variations to crackled finishes that lend character, the choice is yours when selecting a subway tile.
White subway tiles are the classic variety that first captured consumer attention, but a range of other colors can be equally as impactful. For instance, a dark gray tile works wonderfully in minimalist spaces and provides a striking contrast to light cabinets. Or, consider laying them in a herringbone or chevron pattern to add interest to a wall.
You can also play with the direction in which you lay your tiles, creating a one-of-a-kind look that will make an instant impression. Whether you go with the popular horizontal or vertical laying, you can transform any room with this simple yet versatile option.